During this holiday season, we want to spread KINDNESS in 2nd grade.
Just like the Grinch, we want to grow our heart and choose kindness!
So, take on the Grinchmas Challenge of 2016!! Celebrate and record your kindness using the Bingo sheet coming home tomorrow!  You can also read more about the Grinchmas challenge here and find the Bingo sheet here! We're also going to try to fill up our Grinch here at school with hearts for good deeds!
If the opportunity arises, capture your good deed with a photo and (with an adult!) share it on Facebook, Instagram or Twitter with the hashtag #DGSGrinchmas. You can also email me your photo and I can share it on the DGS Facebook page and our class Twitter page for you! Let's spread the love!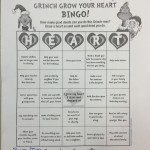 To celebrate our kindness kickoff, wear green to school tomorrow (Friday, December 2nd!)