Do you love to hang up "Seussey" work on your fridge for all to see? So do we!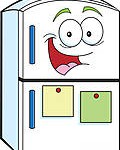 Click on a picture below to see the rock star work featured on the Seussville Fridge!
*Inspired by Mrs. Zarko and her classroom The Second Street Cafe**
Just please remember to close the door when you are done. We're not paying to cool the kitchen around here!

We would love to hear from you in our comment section!

Wow our first famous artist & author of Seussville!

Check out this artist! I love the details on the plate AND on the table around the plate.  Backgrounds are important because they give our audience more information to create their own image or story in their mind.